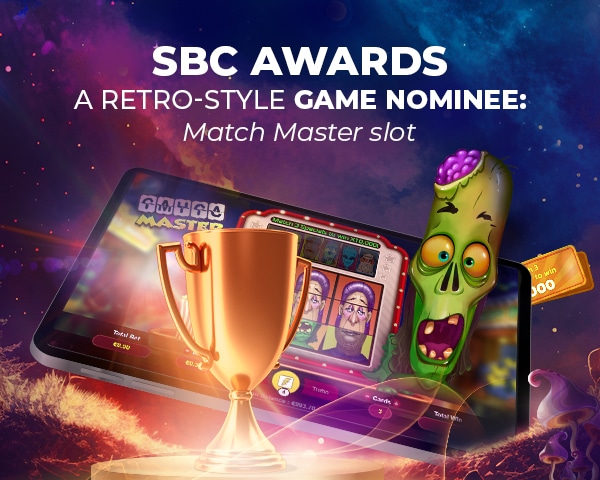 SpinOro's Match Master slot is shortlisted in CasinoBeats Game Developer Awards 2023
April 23, 2023
SpinOro's Match Master slot has been shortlisted in the Game Creation category of this year's SBC Awards, created to recognise and celebrate the creative and innovative game development teams behind the industry's most successful titles.
The CasinoBeats Game Developer Awards feature 23 categories divided into 5 main groups, where SpinOro's in-house developed slot, Match Master, is nominated in the Game Creation category for a game in Retro-style. The winners will be decided by a hand-picked judging panel featuring a selection of the industry's most experienced professionals at the CasinoBeats Summit, which will take place on May 25 in Malta. With a record amount of submissions for the 10th anniversary of the awards, the independent judges had a difficult time narrowing down the candidates for the 23 categories.
SpinOro's game developers succeeded in creating a truly unique gaming experience with the Match Master slot, which draws inspiration from the beloved match-3-parts games of our childhood. The game's stunning visuals provide a classic yet contemporary feel that immerses players in the nostalgia of their childhood games.
With Match Master, SpinOro offers a perfect way to relive the simplicity and enjoyment of classic games that cannot be found in modern slot titles. Its clean lines and soothing gameplay make for a truly relaxing and pleasant experience that players enjoy.
Jeff Letlat, COO at SpinOro, commented:
"We are incredibly honored to be recognized in such a way at the CasinoBeats Game Developer Awards. This is a testament to the hard work and dedication of our talented team, who have poured their hearts and souls into creating an unforgettable gaming experience. We look forward to delivering even more value to players and continuing to push the boundaries of what is possible in gaming."