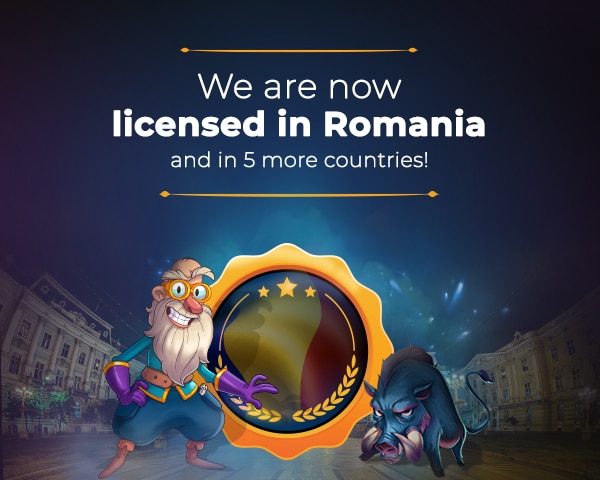 Spinoro Acquired Romanian Certification for its Slot and Scratch Card Games
January 5, 2023
As part of Spinoro's vision to expand to new territories, and the company's passionate commitment to supporting its business partners, they have managed to successfully obtain certificates for 120 games in total for the Romanian market, this includes 74 video slots and 46 scratch games. Among the games are some of their most popular titles that are praised by players across the globe, including Pyramid Spin, Scratch King, and Cleopatra.
Spinoro passes rigorous Romanian licensing requirements
Spinoro's dedicated teams of game producers, developers, and legal and compliance staff worked around the clock over the course of several months to carefully fine-tune all of its products according to the meticulous requirements of the Romanian certification teams. In order to offer any gambling products in Romania, games and their (online) venue are subject to licensing and authorization procedures, including an audit of the games, as each game must obtain its own certificate. The gambling software, as well as the random number generator (RNG) and return to player (RTP) for each game must be licensed.
In order to receive approval, various technical and operational requirements must be met including actions pertaining to software development, platform management, payment processing, and certification. Spinoro is very happy to have secured Romanian authorization for 120 of its slot and scratch games and looks forward to the opportunities this licensing offers its partners.
By combining its global team's collective experience and passion for game development with the latest technology, Spinoro provides iGaming businesses with a vibrant portfolio of the most innovative games which, over and above the Romanian certifications, are also licensed for the UK, Switzerland, Lithuania, Spain, and Malta.
The huge effort that Spinoro's outstanding team underwent to obtain the licenses for various popular online gaming locations equates to incredible potential profit for Spinoro's clients. The company's business partners can benefit from entering these markets and many others without the need to utilize their own resources. They will save not only on the financial aspect but also by not having to invest time in educating their staff in order to get such licenses themselves. Thus, Spinoro partners can focus on other business-growing opportunities (such as their players' needs, marketing strategies, and more), without having to worry about all the paperwork related to compliance and reporting.
A growing portfolio of original games
With an ever-expanding portfolio of over 180 action-packed, original games with unique designs, features, and mathematics, Spinoro's games are completely localized and available in over 20 languages and multiple currencies. Spinoro's games are developed with a player-centric vision, focused on engagement, originality, and entertainment.
Spinoro's portfolio is packed with interesting and vibrant games such as:
Mr. Fast Cash
The Spell Hunters
Age of Legends
Fortune Wheel Deluxe
Groovy Wins

Spinoro offers its partners full solutions from in-house developed software, comprehensive business solutions, original and licensed slot, and scratch card games as well as marketing, analytical, and support services.